Home / Winders / Traverse Spoolers /
Stepper Controlled Traverse Winders with Accu-Wind Control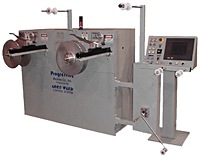 Progressive Machine Company's Model MS-121 modular traverse winders and Model S103LD traverse spoolers are designed for downstream applications such as creating spools or coils directly from a slitter or extruder without the need for any mechanical or electrical connection. The modular design allows for a variety of configurations and versatility in placement to optimize efficiency and operate within floor space constraints.

This flexibility of design allows for a number of tension control and guide options which enable the unit to wind a wide variety of materials in the 1/4 to 1 inch size range. It is especially suited to strip and profile winding and is commonly used for film, belting, strapping, and plastic profile extrusion.

Additionally, both of these traverse winders can be controlled utilizing Progressive's exclusive ACCU-WIND system which provides unsurpassed accuracy in winding while drastically cutting transition times for set up or adjustment. The ACCU-WIND system can direct each spindle to wind from any one of a number of preset "recipes", each of which can be modified to the specific characteristics of an individual product, saved, and then easily recalled. Each of these systems incorporates a stepper traverse mechanism to provide excellent control at a reasonable cost.
Click one of the models below for more information.
| Item # | Drive | Hand Type | Max. Package O.D. | Max. Package Weight | Type |
| --- | --- | --- | --- | --- | --- |
| MS121 | AC Frequency or 4 Quadrant Regenerative | Left or right hand configurations available | 16 in | 60 lb | Modular winder |
| S103LD | AC Frequency or 4 Quadrant Regenerative | Left or right hand configurations available | 16 in | 60 lb | Spoolers |
Note
Although Progressive Machine Company offers several standard products, each is infinitely customizable as determined by customer need. Machine specifications are subject to change based on the individual requirements. Progressive Machine Company provides unique, application specific, solutions.