Home / Unwinders/Payoffs / Rim Driven Unwinders/Payoffs /
635 Rim Drive Payoff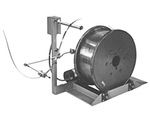 Progressive Machine Company's Model 635 Rim Drive Pay-Off provides an economical system for pay-off of traverse wound, narrow width metal strip or wire products . This unit can handle spool sizes of 12"- 36" OD, by 16" wide, and weighing up to 2,000 lbs.
Progressive Machine Company's Rim Drive Payoffs are designed to provide a flexible unwinding system designed for the smooth pay-off of ferrous and non-ferrous metal strip or flatware. These units are commonly used for punch press and stamping operations.
The Model 635 Rim Drive offers pneumatic controls which provide a reel lifting feature. Spools are rolled into the machine by removing the outside idler. After the spool is in the cradle position, the idler is reinserted and the pneumatics activated. This action pushes the two rolls together raising the spool into the cradle.
Each of these units can operate with a number tension control options including the standard STC (counterbalance dancer), an articulated broken arm dancer for punch press operations, and a Telesensor, ultrasonic loop controller. These choices allow the rim drives to provide superior pay off performance at a low cost.
The Rim Drive Pay-Off is slaved to your process and automatically adjusts speed as directed by an exclusive Progressive Machine tension control system. This control of speed and tension facilitates an efficient pay out of material for smooth, hand-free processing.
Space required for operation is minimal because the need for material handling equipment has been eliminated. Spools are rolled up to unit and the removable rear idler is lifted out of place. The spool is rolled into the cradle position and the idler is replaced in the correct detent position. A pneumatic valve is actuated squeezing the stationary driven roll and removable idler together thereby lifting the spool into the cradle / active position.
Specifications
| | |
| --- | --- |
| Dancer Type | STC Standard |
| Drive | 1/2 hp DC |
| Frequency | 60 Hz |
| Hand Type | Left or right hand configurations available |
| Max. Package O.D. | 36 in |
| Max. Package Weight | 2000 lb |
| Max. Package Width | 12 in |
| Max. Unwinding Speed | 150 fpm |
| Phase | 1 |
| Unwind Tension STC | 8 to 32 oz |
| Voltage | 110 V |
Features
Optional Accessories
S.T.C. (Speed, Tension Control): Counter balance type dancer for continuous run applications.

Broken Arm Dancer: 8 oz. to 1lb. tension - For use in intermittent motion or cut-to-length applications.

Telesensor (Ultrasonic Loop Controller): For noncontacting applications.
Benefits
1) Economical Alternative
2) Minimized load time
3) Larger continuous unwinds
4) Fewer set-ups, Reduced set-up time, lower operating costs, safer operating environment
5) Can be used for a wide range of strip, tube, and profile material.
Note
Although Progressive Machine Company offers several standard products, each is infinitely customizable as determined by customer need. Machine specifications are subject to change based on the individual requirements. Progressive Machine Company provides unique, application specific, solutions.