Home / Unwinders/Payoffs / Center Driven Unwinders/Payoffs /
612 Center Driven Horizontal Payoff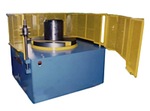 The Model 612 Horizontal Driven Payoff is equipped with a drive capable of providing a line speed of 800 FPM on a 16" ID. This machine includes a rotating stock table with a retractable, expanding mandrel that allows for the payoff of individual pancake coils to the winder. Typical operation will require that coils be presented either individually or stacked from a fork truck (not supplied by Progressive Machine, line height to be determined) and then off loaded to the stock table. The mandrel will elevate into position and expand to anchor the coil. Also included are an emergency stop brake function and solenoid activating controls for electrical interfacing with the winder or upstream process. A Free Standing S.T.C. (Speed & Tension Control) dancer assembly which maintains the selected rewind tension as set by the operator or and synchronizes the speed of the 612 Pay-Off to the running speed of the line is included. Left and Right Hand models are available (opposite hand of winder). Safety Guarding is included.
Specifications
| | |
| --- | --- |
| Entry Coil I.D. Minimum | 16 in |
| Entry Coil O.D. Maximum | 60 in |
| Entry Coil Weight | 3000 lb 277 kg |
| Entry Coil Width | 12 in |
| Material Thickness | .015 to .125 in |
Note
Although Progressive Machine Company offers several standard products, each is infinitely customizable as determined by customer need. Machine specifications are subject to change based on the individual requirements. Progressive Machine Company provides unique, application specific, solutions.