Home / Unwinders/Payoffs / Center Driven Unwinders/Payoffs /
604 Center Drive Payoff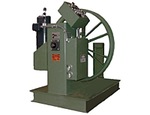 Progressive Machine Company's Model 604 is a flexible unwinding system designed for the smooth pay-off of ferrous and non-ferrous metal strip or flatware.
This versatile uncoiler is available with several shaft options to accommodate a variety of package configurations. The 604 comes equipped with a standard "bolt on" cantilevered shaft for mounting an uncoiling device and a "dual supported, drop-in" shaft for spooled material.
The system is available in standard and heavy duty versions and various drive options are available depending on customer requirements.
Additionally, the Model 604 features an emergency stop brake function which energizes a magnetic brake to rapidly stop spindle rotation and allows for the effective pay-off of heavy packages.
Model 604 Can be set up as a "Master" or "Slave" for line speed control. A standard 1 HP drive pays off material at line speeds up to 500 fpm and includes a magnetic braking system for rapid stop of spindle rotation with heavy packages. Variable tension control device options for controlling tensions from as low as 10 g. to as high as 50 lbs.
Specifications
| | |
| --- | --- |
| Dancer Type | STC Standard Heavy Duty |
| Drive | 1 hp DC Regenerative (Typical) |
| Frequency | 60 Hz |
| Hand Type | Left or right hand configurations available |
| Max. Package O.D. | 42 in |
| Max. Package Weight (Bolt-On) | 1000 lb |
| Max. Package Weight (Drop-In) | 2000 lb |
| Max. Package Width (Bolt-On) | 14 in |
| Max. Package Width (Drop-In) | 30 in |
| Max. Unwinding Speed | 500 fpm |
| Phase | 1 |
| Voltage | 220 V |
Benefits
1) Applicable to a wide variety of materials
2) Readily adaptable for spools or coils
3) Drop in shaft provides for easy loading of heavy spools from overhead crane or fork lift
4) Speed control allows for continually smooth payoff
5) Flexibility results in lower costs
6) Small footprint occupies minimal space
Note
Although Progressive Machine Company offers several standard products, each is infinitely customizable as determined by customer need. Machine specifications are subject to change based on the individual requirements. Progressive Machine Company provides unique, application specific, solutions.