Home / Winders / Traverse Spoolers /
RS131 Wire Respooler Series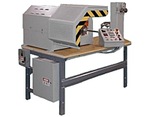 Progressive Machine Company's Model RS 131 is an extremely versatile dual spindle respooler designed for the creation of small finish spools of wire or other similar materials.
The RS 131 is a high speed (1500 fpm) rewinder especially suited to applications such as inhouse winding, creating shipping spools, or spooling for retail packaging. This winder features two spindles in order to minimize transition time from full to empty spools and thus better maintain continuous line speed. It is the recommended choice for breakdown of large to several smaller spools.
This quality built spooling machine is supplied with a rugged work table and construction includes a heavy duty frame, welded steel plate, and sheet steel guard panels. All components and control systems are supplied to insure durability and consistent long term results.
The 131 incorporates Progressive's patented, pneumatic traverse system with easy to use operator controls for stop, start, edge adjustment, and pitch control. An encoder feedback system maintains a constant line speed and a predetermining footage counter initiates a slow down and stop of machine. Also included are missing/broken wire detect circuit to stop the machine and a fault indicator circuit to accommodate input signals from external devices.
Specifications
| | |
| --- | --- |
| Air Requirement | 60 to 80 psi |
| Drive | 1 hp DC |
| Frequency | 60 Hz |
| Hand Type | Available in Right or Left Hand Model |
| Material O.D. | to 1/8 in |
| Max. Package O.D. | 12 in |
| Max. Package Weight | 50 lb |
| Max. Package Width | 12 in |
| Max. Winding Speed | 1000 fpm |
| Phase | 1 |
| Rewind Tension | 2 to 10 lb |
| Traverse Pitch | Infinitely Adjustable |
| Voltage | 230 V |
| Weight Including Table | 750 lb |
Benefits
1) Applicable to a wide variety of wire, rod or similar materials
2) Excellent repeatability from spool to spool
3) Speed controlled for maximized consistency throughout the wound package
4) Reduced set-up time, resulting in lower operating costs
Note
Although Progressive Machine Company offers several standard products, each is infinitely customizable as determined by customer need. Machine specifications are subject to change based on the individual requirements. Progressive Machine Company provides unique, application specific, solutions.