Home / Winders / Traverse Spoolers /
S165 Semi Automatic, Dual-Spindle Spooler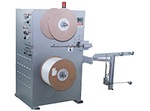 Progressive's Model 165 Spooling Machine has been specifically engineered to traverse-wind flexible materials in situations demanding rapid changeover between spools while maintaining product orientation to the spool. A Quick Change, semi-automatic guide assembly maintains the orientation of product to spool without the need for re-threading guide. This traverse winder is designed to increase efficiency by minimizing down time and reduce operating expenses particularly in the spooling of profile materials.
This dependable take-up spooler is rated for continuous 24 hour operation and is powered by a solid state variable speed drive. An independently controlled, dual spindle facilitates change over from full to empty spools. Units have side mounted consoles and are available in left or right hand drive models for mirror image operation of two or more spoolers by only one operator.
Tension throughout the wind is controlled by a dancer arm type Speed Tension Control (S.T.C.) which assures consistent tension control by synchronizing spindle rpm to material take-up speed at a preset tension level. Spindle rpm reduces as the package grows. The material itself, plus the prime mover (such as a press, puller, capstan, or extruder) coordinate the take-up according to the tension selected. The result is package wound with the same tension throughout; from core to O.D.
Specifications
| | |
| --- | --- |
| Drive | AC Frequency or 4 Quadrant Regenerative |
| Frequency | 60 Hz |
| Hand Type | Left or right hand configurations available |
| Material O.D. | to 1 in |
| Material Width | to 1.5 in |
| Max. Package O.D. (CB) | 24 in |
| Max. Package Weight (CB) | 100 lb |
| Max. Winding Speed | 600 fpm |
| Phase | 1 |
| Rewind Tension | 3 to 32 oz |
| Traverse Pitch | Infinitely Adjustable from 0 to 2 in advance per spindle revolution |
| Traverse Type | Pneumatic |
| Voltage | 220 V |
Benefits
1) Economical alternative to fully automatic winders
2) Minimized change over time
3) Larger continuous winds
4) Fewer set-ups, Reduced set-up time, lower operating costs, safer operating environment
5) Can be used for a wide range of strip, tube, and profile material.
Note
Although Progressive Machine Company offers several standard products, each is infinitely customizable as determined by customer need. Machine specifications are subject to change based on the individual requirements. Progressive Machine Company provides unique, application specific, solutions.