Home / Accessories /
267 S-Wrap Pull Bridle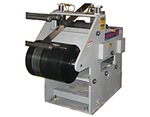 The Progressive Machine Model 267 Pull Bridle is used to isolate tension between a slitter, edging station or upstream process and individual winders or downstream equipment. The bridle includes two rollers that, while working in tandem, produce consistent pull against the slitter upstream and yet provide sufficient hold back to allow for the control of winding tension downstream. The result is the effective isolation of separate tension zones within a line.
A Load cell indicates tension levels between the slitter and bridle thus allowing for speed regulation. Tension downstream is typically controlled via torque or dancer control on the winder or other secondary equipment.
Each 18" bridle roll will have an air operated snubber roll as well as a drawer mounted shaft to streamline the change out of separator tooling. Flock covering is typical for rolls and offers a slip free durable surface.
Specifications
| | |
| --- | --- |
| Entry Roll (Typical) | 15 hp |
| Exit Roll (Typical) | 25 hp |
| Max. Speed | 1000 fpm |
| Roll Diameter | 18 in |
Note
Although Progressive Machine Company offers several standard products, each is infinitely customizable as determined by customer need. Machine specifications are subject to change based on the individual requirements. Progressive Machine Company provides unique, application specific, solutions.