Home / Winders / Traverse Spoolers /
S-186PMC Programmable Three-Spindle, Turret Spooler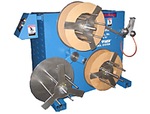 Progressive Machine's Model S186-CA is an automatic turret traverse winder with three (3) alternately driven, spindles to wind spools up to 24" in diameter by 12" wide. Tension is typically controlled by our standard ultra-light, linear tension control LTC (Linear Tension Control dancer system) or can be run in a manual mode as a pull winder (without tension control). Additionally, the Model 186 spooling machine lends itself to a variety of tension control options from a slow as 10g. to as much as 5 lbs. This comfortably allows for the winding of everything from capillary tubing to profile.
This model includes a programmable touch screen interface that incorporates all machine functions and winding patterns into a closely supervised and controlled machine system. In addition, previously saved variables (recipes) for different materials and winding patterns can be reproduced, exactly the same, production run to production run.
Touch screen functionality includes the following:
Variable Pitch: The distance the guide indexes with each revolution of the spindle.
Variable Dwell: The duration that the guide lags prior to reversing direction.
Variable Width: The face width of the spool / travel distance of the guide.
Part Selection / Recall: Storage and identification of variables for recall.
Home: Start position
Slow
Stop
This is an ideal solution for high speed extrusion lines (to 500 fpm) in industries such as medical or food packaging.
Specifications
| | |
| --- | --- |
| Hand Type | Left or right hand configurations available |
| Material O.D. | to 1 in |
| Material Width | to 1.5 in |
| Max. Package O.D. | 24 in |
| Max. Package Weight | 80 lb |
| Max. Package Width | 12 in |
| Max. Winding Speed | 500 fpm |
| Rewind Tension | 3 to 32 oz |
| Traverse Pitch | Infinitely Adjustable from 0 to 2 in |
| Traverse Type - Stepper | ACCU-WIND Control |
| Voltage AC | 230 V |
Benefits
1) Reduced transition time from full to empty coil
2) Repeatability from package to package with marked improvement to consistency of quality
3) Can be used for a wide range of strip, tube, and profile material
4) Adaptability of speed and tension controls for winding consistency throughout any package
Note
Although Progressive Machine Company offers several standard products, each is infinitely customizable as determined by customer need. Machine specifications are subject to change based on the individual requirements. Progressive Machine Company provides unique, application specific, solutions.