Home / Winders / Traverse Spoolers /
AC-175PMC Programmable Dual-Spindle Spooler with Auto Change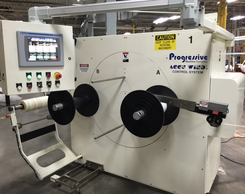 Progressive Machine Company's Model AC-175PMC Programmable traverse winder combines the accuracy of computer controlled repeatability with on-the-fly, cut and transfer technology to produce a virtually hands-free winding process. This spooling machine is designed specifically for use in those manufacturing environments that demand limited physical contact, either for reasons of operator safety or to prevent contamination from contact with the floor. This is an ideal solution for high speed extrusion lines (to 500 fpm) in industries such as medical or food packaging.
The AC-175PMC is controlled by Progressive's exclusive ACCU-WIND system which provides unsurpassed accuracy in winding while drastically cutting transition times for set up or adjustment. It offers a unique versatility that couples the flexibility of infinitely customizable "recipes" or winding patterns, with tension control and guide options to enable the same winder to produce superior packages for a wide range of materials. Typical applications include strip, tube, or profile from the 1/4" to 1 1/2" size range and possibly even larger depending upon factors such as speed, pitch, and package weight.
Additionally, this unit incorporates Progressive's unique ACCU-TRANS automatic, cut and transfer system which allows for the hands-free transition from full to empty spool. When used in conjunction with the automatic set-up and recall provided by the ACCU-WIND control system, the result is second to none package quality with minimal operator involvement. For package quality, operator safety, and sanitary code issues, the Model AC-175PMC is the clear choice.
Specifications
| | |
| --- | --- |
| Drive | AC Frequency or 4 Quadrant Regenerative |
| Frequency | 60 Hz |
| Material O.D. | to 1 in |
| Material Width | to 1.5 in |
| Max. Package O.D. (CB) | 24 in |
| Max. Package O.D. (EB) | 36 in |
| Max. Package Weight (CB) | 100 lb |
| Max. Package Weight (EB) | 250 lb |
| Max. Winding Speed | 600 fpm |
| Phase | 1 |
| Rewind Tension | 3 to 32 oz |
| Traverse Pitch | Infinitely Adjustable from 0 to 2 in advance per spindle revolution |
| Traverse Type -Servo | ACCU-WIND Control |
| Voltage | 220 V |
Benefits
1) Reduced set-up time, lower operating costs, safer operating environment
2) Repeatability from package to package with marked improvement to consistency of quality
3) Can be used for a wide range of strip, tube, and profile material
4) Adaptability of speed and tension controls for winding consistency throughout any package
Note
Although Progressive Machine Company offers several standard products, each is infinitely customizable as determined by customer need. Machine specifications are subject to change based on the individual requirements. Progressive Machine Company provides unique, application specific, solutions.