Home / Winders / Traverse Spoolers /
MS104 Modular Traverse Winders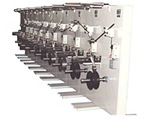 Progressive Machine Company's Model MS 104 modular traverse winder is a extremely versatile spooling machine designed for use in multiples in the creation of several traverse-wound packages from a slitter or other common upstream feed process. These units are suitable for a wide range of products ranging from extruded plastic to non woven strip.
This winding machine offer several options for tension control including the standard STC (dancer) and the Progressive non-contact loop controller or Telesensor. The variety of tension control options available for the Model 104 allow for the effective winding of any number of sensitive products without the risk of damaging due to improper tensioning. This style of winder has been successfully used on everything from open cell foam strip to stiff material like string trimmer line.
These quality built traverse winding machines are supplied with an independent drive and traverse assembly mounted in a tall narrow profile in order to limit floor space requirements. The 104 provides consistent, level wound packages on a very reasonable budget, yet all components and control systems are supplied to insure durability and consistent long term results. The 104 is extremely durable and is easy to maintain with only twenty moving parts per module.
Specifications
| | |
| --- | --- |
| Drive | 1/2 hp, DC (Standard) |
| Frequency | 60 Hz |
| Hand Type | Left or right hand configurations available |
| Material O.D. | to 1 in |
| Material Width | to 2 in |
| Max. Package O.D. | 24 in |
| Max. Package Weight | 60 lb |
| Max. Package Width | 12 in |
| Max. Winding Speed on 6" Core | 500 fpm |
| Phase | 1 |
| Rewind Tension, STC | 6 to 32 oz |
| Rewind Tension, Telesensor | 10 to 75 g |
| Traverse Pitch | Infinitely Adjustable to 2 in |
| Traverse Type | Mechanical Linear Drive |
| Voltage | 110/220 V |
Benefits
1) Applicable to a wide variety of flat or round materials
2) Readily changeable from product to product
3) Repeatable results from package to package
4) Speed controlled for maximized wind consistency throughout the package
Note
Although Progressive Machine Company offers several standard products, each is infinitely customizable as determined by customer need. Machine specifications are subject to change based on the individual requirements. Progressive Machine Company provides unique, application specific, solutions.