Home / Winders / Traverse Spoolers /
RS100 Fiber/Fine Wire Respooler Series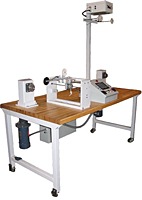 Progressive Machine Company Models RS 100FO and RS 135 are moderately priced traverse winders that can effectively bridge the gap between one of a kind lab bench prototyping and low-volume production. These spooling machines offer the consistency of control to accurately duplicate results from one spool to the next and provide a reliable alternative for taking the first step from the R&D Laboratory to commercialization.
These respoolers effectively address the two primary areas of concern for spooling fiber by incorporating extremely accurate winding with consistency in tension control for a completely integrated table top system.
Tensioning, throughout the winding process is provided by Progressive's exclusive Telesensor. This ultrasonic loop monitor maintains tension within repeatable, spike free, parameters at levels as low as ten grams. Low mass guides replace spring controlled or mechanical dancers that can over stress sensitive material.
Winding accuracy is maintained by a digitally set (RS100 FO) or touch screen controlled (RS 135) (stepper or servo) traverse system to position guides and place fiber/wire. Fiber from as small as 75 microns O.D. to as large as 1000 microns can be effectively wound on spools or jigs. Pitch, or the distance the fiber travels horizontally with each spindle rotation, can be controlled in increments as small as 25 microns (.001"). This allows for the maintenance of tight tolerances and the ability to standardize quality.
Specifications
| | |
| --- | --- |
| Drive | 1/2 hp DC |
| Frequency | 60 Hz |
| Material O.D. | 0.003 to 1 in |
| Max. Package O.D. | 14 in 35 cm |
| Max. Package Weight | 40 lb 18 kg |
| Max. Package Width | 12 in 30 cm |
| Max. Winding Speed | 600 fpm 200 Mpm |
| Phase | 1 |
| Rewind Tension | 10 to 50 g |
| Table Length | 72 in 180 cm |
| Table Width | 36 in 90 cm |
| Traverse Pitch | Infinitely Adjustable from 0.001 in |
| Type of Maintained Winding Accuracy | Digitally set |
| Voltage | 120 V 240 V |
| Weight Including Table | 600 lb |
Benefits
1) Applicable to a wide variety of fiber or similar materials
2) Excellent repeatability from spool to spool
3) Speed controlled for maximized consistency throughout the wound package
4) Reduced set-up time, resulting in lower operating costs.
Note
Although Progressive Machine Company offers several standard products, each is infinitely customizable as determined by customer need. Machine specifications are subject to change based on the individual requirements. Progressive Machine Company provides unique, application specific, solutions.