Home / Winders / Traverse Spoolers / Dual-Spindle Spooler Series /
S160CB Dual-Spindle Spooler Series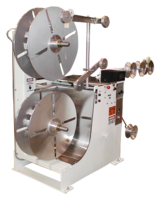 Progressive Machine Company's Spooler Series is designed to provide consistent, quality winding results for a wide variety of extruded products in a 24-7 operating environment.
These Spoolers provide a reasonably priced, rugged solution with a 40 year track record of reliable service. Each winder features a dual spindle construction with independent clutch braking and common dancer to provide rapid changeover from full to empty spools. The patented pneumatic traverse ensures positive lateral movement and instantaneous reversal.
This design typically facilitates changeovers in 6-10 seconds. Additionally, each unit features an over speed design which rapidly picks up slack during cut and transfer and thus alleviates the need for any accumulation device.
Specifications
| | |
| --- | --- |
| Max. Line Speed1 | 600 fpm |
| O.D. | 24 in |
| Weight Capacity | 60 lb |
| Width | 20 in |
Features
1 Line speed is dancer (STC) controlled. Speeds indicated are maximum values and are affected by diameter, tension, and pitch requirements. Models offer a 16:1 speed ratio over three ranges; (1:1, 1.7:1, and 3.4:1) which is selected by movement of a belt to one of three pulley positions.
Benefits
1) Applicable to a wide variety of strip, tube and plastic profile materials
2) Readily adaptable for spools or cores
3) Easily changeable from full to empty spools for use on continuous run applications
4) Speed and tension control for maximized wind consistency throughout the package
5) Reduced set-up time, resulting in lower operating costs
Note
Although Progressive Machine Company offers several standard products, each is infinitely customizable as determined by customer need. Machine specifications are subject to change based on the individual requirements. Progressive Machine Company provides unique, application specific, solutions.