Home / Accessories /
Cast Aluminum Spring Core Adapter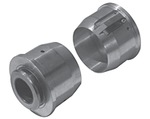 The Quick Release Alternative to Core Cones
Progressive Machine Company's unique cast aluminum Spring Core Adapter offers a permanent, easy to use replacement for core cones or other core securing devices.
This patented product utilizes a special spring lock mechanism to secure the core against the tension direction. The adapter remains free to operate in the opposite direction and thus enables an operator to facilitate core removal. The unit is secured by a spring release hub that allows for quick positioning and release by simple finger tip pressure. Its flexibility of design provides for use in either off the top or bottom material flow.
Benefits
Quick Release, Minimal Operator Stress
Will Not Mark or Damage Cores
Self Locking and Positioning. No Tools required
Accurately and Securely Anchors Cores
3" or 6" Diameters Standard. Special diameters available upon request.
Note
Although Progressive Machine Company offers several standard products, each is infinitely customizable as determined by customer need. Machine specifications are subject to change based on the individual requirements. Progressive Machine Company provides unique, application specific, solutions.