Home / Winders / Oscillating Winders /
Oscillating Traverse Winder Model 650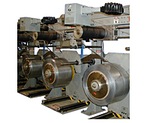 Progressive Machine's Model 650 is our most rugged, highest volume, oscillate winding system. It is designed for 24 hour a day, seven day a week service in the take up of ferrous and non-- ferrous metal strip or flatware. Designed to be used either in multiples for winding directly from a slitter, or individually in large capacity rewinding operations ( 5,000 lb. arbor capacity), the 650 can accommodate both mill, or high volume service center requirements.
This versatile winder can be used to wind either spools or cores of narrow width material from 1/4" to 2 1/8" in gauges from .010 to .125 inch. Torque and dancer control systems provide for adjustability from 10-200 lbs of winding tension allowing the 650 to be used on materials as soft as copper and as hard as tempered steel without inducing camber.
The 650 is "slaved" to your slitter drive, process, or prime mover and synchronizes speed as directed by either Progressive's exclusive STC (Speed, Tension Control) system or Torque Control. Additionally, the Model 650 features a fully protected electric brake and torque limiter, for extremely rapid stopping even when operating under maximum load and at maximum speed. The torque limiter prevents damage to the drive train.
Specifications
| | |
| --- | --- |
| Material Thickness | .010 to .125 in |
| Material Width | to 2 in |
| Max. Package O.D. | 48 in |
| Max. Package Weight | 5000 lb |
| Max. Winding Speed | 1000 fpm |
| Rewind Tension | 10 to 200 lb |
| Traverse Pitch | Adjustable from 0 to 2.125 in |
| Traverse Type | Hydraulic |
Note
Although Progressive Machine Company offers several standard products, each is infinitely customizable as determined by customer need. Machine specifications are subject to change based on the individual requirements. Progressive Machine Company provides unique, application specific, solutions.