Home / Accessories /
Strip-Turn-Ender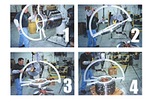 This unique, low cost coil handling aid is a simply hung manipulator that allows an operator to remove heavy coils, reposition, and off load with minimal effort. Consequently, downtime is minimized, safety is maintained and operator satisfaction is increased.
The simple 4-Step unload process is as follows:
1. Secure coil with hand tightening knobs to the Strip-Turn-Ender from turnstile or winder.
2. Effortlessly down-end the coil from a vertical to horizontal position.
3. Use your overhead crane to position the Strip-Turn-Ender for unloading.
4. Down-Ending complete! Unfasten the coil from the Strip-Turn-Ender.
Note
Although Progressive Machine Company offers several standard products, each is infinitely customizable as determined by customer need. Machine specifications are subject to change based on the individual requirements. Progressive Machine Company provides unique, application specific, solutions.